Profile
TAC Arquitectes is an architectural office founded by Eduard Gascón and Vicente Galiana in 1997. It integrates a large professional team with extensive knowledge and experience in architectural design and construction, urbanism, landscaping, interior design and refurbishment works.
Our professional practice is based on quality and commitment throughout all the process that makes possible the achievement of a successful design outcome. This is carried out never sacrificing the cultural dimensions of architecture, by maintaining open dialogue with the client and institutions, paying attention to sustainability, the real needs of users and having control of the budget. This attitude has allowed us to offer a serene and balanced response to the challenges posed by our clients, which include both public administrations and private developers.
TAC built work has been recognized with numerous awards and distinctions among which include the FAD awards finalists for the renovation project of the old Uriach Laboratories and the Diagonal 682 Office Tower, or the Turó de Can Mates Park award at the Biennale of Landscape Architecture of Vallès. In addition, the studio has worked on projects of special importance and significance for the city of Barcelona: the tower for the new headquarters of the Chamber of Commerce on the Diagonal Avenue, the Sagrera Intermodal Station, the large metropolitan transport complex that will connect the high-speed rail network, train, metro and bus services and, most recently, the project for the new Palau Blaugrana, the basketball arena for Futbol Club Barcelona.
At the same time, and as result of an intense collaboration with companies in the construction sector, we have added research and development of new industrialization models to our usual practice: Les Parellades School in Sant Pere de Ribes and social housing in Torelló, a pioneering four-storey building formed by three-dimensional steel modules manufactured in a workshop, are examples of this area of work. In addition, fruit of an extensive experience in refurbishment, we have developed complete renovation projects such as the Railway Museum in Vilanova y la Geltrú, the residence Llars de l´Amistat in Barcelona and the office building Balmes 49 located in the Eixample, also in Barcelona.
TAC's recently completed projects include, among others, the construction of two residential complex in Sant Feliu de Llobregat and Sant Cugat del Vallès in 2017 and the opening of the new Secondary School in Viladomat Street in September 2018. Currently, the most highlighted works in progress are the already mentioned project for the new Palau Blaugrana, the architectural definition of the non-liturgical spaces of the Sagrada Familia and the social housing complex in Trinitat Vella for the Municipal Housing Institute of Barcelona –IMHAB.
Team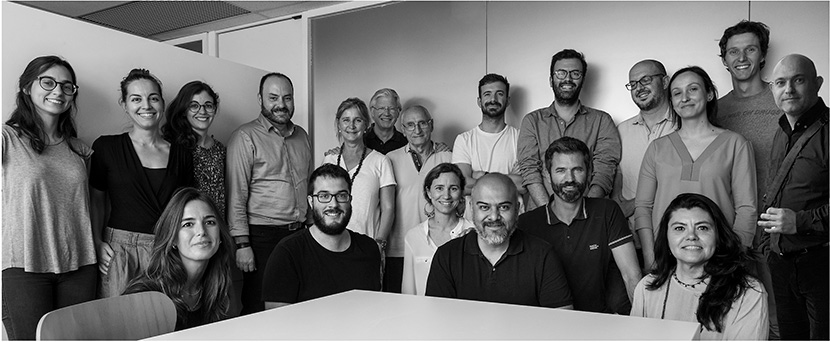 Achaerandio, Isabel
Aguilar, Miguel Angel
Aguilella, Pol
Ajuria, Saúl
Alcalde, Albert
Álvarez, Lupe
Amorós, Silvia
Armendia, Eneko
Aparicio, Fermín
Auternetxe, Miren
Balaguer, Jordi
Ballesta, Ricard
Barbieri, Laura
Barrassa, David
Bellera, Raquel
Blasco, Maria Àngels
Bocanegra, Sònia
Bodelón, Carmen
Bordés, Sara
Buendia, Antonio
Buzzelli, Gianluca
Cabanillas, Diana
Carrillo, Diego
Casacuberta, Camilo
Castillo, Josep
Corominas, Anna
Corral, Leticia
Cusó, Albert
Deiros, Ana Maria
Díaz, Norberto
Ding, Delphine
Domingo, Mar
Estrada, Xavier
Fernández, Ignacio
Ferrer, María
Font, Anna Maria
Framis, Adela
Fusano, Montse
Galiana, Vicenç / Founder & Principal
Garcés, Marta
Garcia, Cristina
Garcia, Diego
Gardeñas, Antonia
Gascón, Eduard / Founder & Principal
Gili, Immaculada
Godó , Ramón
Giralt, Assumpció
Guerrero, Xavier
Hentshell, Dariela
Ibáñez, Alba
Irisarri, Maria
Itarte, Susana
Jodar, Marta
Jordi, Ferran
Julià, Miquel Àngel
Juncosa, Joan
Lara, Manel
López, Alberto
Luque, Rocío
Llorens, Josep Antón
Machón, José Maria
Maranges, Roger
Marés, Mireia
Marfà, Chantal
Marro, Albert
Martínez, Cristina
Martínez, Encarnación
Martínez, Mònica
Mercader, Eva
Mestre, Jordi
Miravent, José Maria
Mogas, Marc
Molinas, Oriol
Moreno, Mònica
Munuera, Albert
Noguera, Blanca
Orellana, Lidia
Pareja, Andreu
Pérez, Gilberto
Pérez, Ignasi
Pérez, Juan Maria
Pérez, Rosa Ma
Petit, Catarina
Plasencia, Adriana
Platero, Alba
Racana, Fernanda
Ramos, Pepe
Ribera, Marc
Riera, Bernat
Rius, Guillem
Rivaya, Inés
Riva, Gabriele
Rodero, Estefanía
Rodríguez, Ana Maria
Roig, Jordi
Ruíz, Àlvaro
Rull, Elies / Principal
Salvador, Natàlia
Salvat, Marta
Sánchez, Raúl
Sánchez, Pedro Miguel
Sargatal, Agnès
Sarrias de Ros, Alfredo
Segarra, Miguel
Sellés, Salvador
Suarez, Jorge
Subirà, Mateu
Steegmann, David
Vale de Gato, Joao
Valladares, José
Vallverdú, Núria
Virto, Adriana
Volz, Ulrike