1 / 3
The City Council of Barcelona intends to occupy 13 of the 21 planned floors, with a capacity for 1000 to 1100 people, to house their administrative offices in this new building.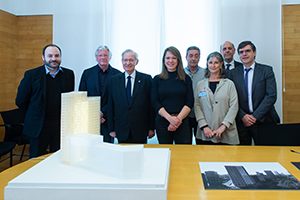 The Barcelona Chamber of Commerce and the City Council have signed the collaboration protocol for the assignment of spaces and provision of common services of the new office and service building that the Chamber of Commerce of Barcelona will build in the Diagonal-Poblenou area. The building, which will have a surface area of 20,500 m2 divided over 21 floors, will be located in the financial district of 22 @, in the block bordered by the streets of Pujades, Fluvià, Selva de Mar and the Diagonal Avenue..
The protocol has been signed by the president of the Chamber of Commerce of Barcelona, ​​Miquel Valls, and the fourth Deputy Mayor of the Barcelona City Council, Janet Sanz. The intention of the City Council of Barcelona is to occupy a part of the surface area of the building of the Chamber of Commerce to house its administrative offices.
The new location will allow the Council to group together its municipal services which are currently spread over several rental office properties, therefore, offering an improvement in terms of cost savings, time and environmental efficiency and sustainability. In addition, the good public transport connection of the new site will facilitate access for both public workers and residents.